So far, we have measured
simulation
time in units of iterations. Today we relate iterations to time in seconds, and use this relationship to choose a heating rate better suited to a simulation of the Earth and the Sun.
Our simulation selects one block of four cells at random on each iteration. With thirty columns and fifteen rows in our array, a rising cell will find itself selected once in every hundred iterations. For circulation to occur, the rising cell must be one of the two lower cells in the block. Furthermore, the cell diagonally above it must be a falling cell. No more than half the cells are falling, so we see that a rising cell will move up by one row every four hundred iterations on average. A cell will take roughly six thousand iterations to rise from bottom to top.
The tropopause pressure in
CC4
is 50 kPa, and the surface pressure is 100 kPa. Using the equation we presented in
Atmospheric Pressure
, we see our tropopause altitude is around 5 km. If one iteration corresponds to one second, cells will take six thousand seconds to rise five kilometers. Their average speed will be around 1 m/s. They will rise from the surface to the tropopause in one and a half hours. But if one iteration corresponds to ten seconds, rising cells will move at 0.1 m/s and take seventeen hours to reach the tropopause.
In
Work by Circulation
we presented an example circulation driven by a rising cell at 320 K and a falling cell at 300 K. This particular circulation generated 160 J of work for each kilogram of air in the rising cell. In our
Planetary Greenhouse
simulation, the average work produced by a single circulation is 60 J per kilogram of the rising cell. If this work turns into kinetic energy of the four rotating cells, each kilogram will receive 15 J. The cells will accelerate to 5 m/s. Our
CC4
simulation assumes this kinetic energy is dissipated as viscous friction within the block. In that case, the average speed of the circulating cells will be less then their maximum possible speed, perhaps as low as 1 m/s. But the speed will certainly not be as low as 0.1 m/s.
We conclude that one iteration of our simulation is closer to one second of planetary time than it is to ten seconds. With one second per iteration, rising air will take roughly one and a half hours to travel from the surface to the tropopause. Falling air will take one and a half hours to descend.
As we showed in
Solar Heat
, the average power arriving from the sun per square meter of the Earth's surface is close to 350 W. Let's suppose the bottom cells of our simulation are warmed at an average rate of 350 W/m
2
. With top pressure 50 KPa, bottom pressure 100 kPa, and 15 rows of cells, each row represents a drop of 3.3 kPa. With gravity 10 N/kg, the mass of each row must be 330 kg/m
2
. The heat capacity of air at constant pressure is 1 kJ/kgK, so 350 W/m
2
will cause a cell to warm at 0.001 K/s, or 3.6 K/hr.
Thus we see that
Q_heating
of 0.001 K represents the Sun's effect upon the surface of the Earth far better than the 0.01 K that we have been using in our experiments until now.
With
Q_heating
set to 0.001 K instead of 0.01 K, the heat flow through our cell array will be ten times lower. The heat flow will be ten times smaller when compared to the heat capacity of the cell array. It will take ten times as many iterations for the simulation to converge. We find that it still takes six thousand iterations for a cell to rise up through the array, but now it takes six million iterations to approach a new equilibrium. Six million iterations represents six million seconds, or roughly two months. This corresponds well to the pace of the Earth's seasons. The shortest day in Boston, for example, is in December. But the coldest weather occurs two months later.
We ran our
CC4
simulation in Planetary Greenhouse mode and allowed the temperature profile to reach equilibrium for various values of mixing fraction. We present our results below. In the legend,
M
is
mixing_fraction
and
Q
is
Q_heating
. Our
CC4
program allows us to save and load previously-converged cell arrays. With the help of saved arrays, we were able to obtain convergence within two million iterations in most cases.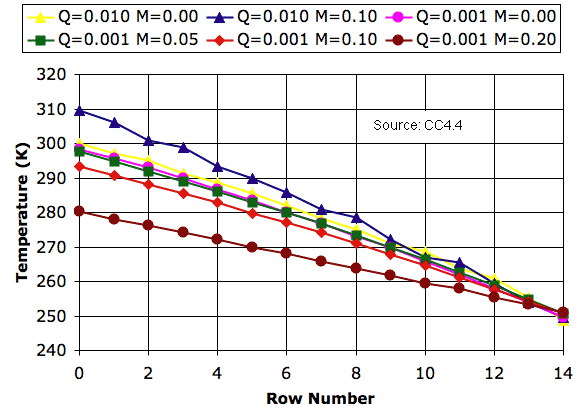 As we discussed in
Circulation and Mixing
, allowing cells to mix as they circulate can increase the temperature drop from the bottom to the top of the array. This is indeed the case when
Q
= 0.01 K, which corresponds to Solar heating of 3.5 kW/m
2
, or ten times what we expect on Earth. But when we reduce
Q
to 0.001 K, mixing has the opposite effect. Michele's
experiments
show us that when
Q
= 0.001 K and
M
= 0.10, mixing alone is sufficient to transport all the heat through the array with a temperature drop of only 60 K. The temperature drop is less than that we would obtain without mixing. The temperature profile is, in Michele's words,
hypo-adiabatic
.
With
M
= 0.05, our simulation predicts a temperature of 297 K at the surface and 250 K at 6 km, which is
very close
to that of the Earth in middle latitudes. We observe steady circulation of cells from bottom to top.
When we increase
M
to 0.10, however, circulation slows down dramatically. If circulation slows down, mixing must slow down too, which means that our result for
M
= 0.10 presents us with an apparent contradiction. We see that mixing can occur only up to the point where it starts to slow down circulation. With
Q
= 0.001 K, we must have
M
≤ 0.05. For
M
≤ 0.05, the surface temperature is within one degree of its value for
M
= 0.00. Now that we have reduced
Q
to 0.001 K, it appears that we are better off running with the mixing turned off. We speed up execution, we avoid any self-contradictory mixing behavior, and we suffer no significant change to our atmospheric temperature profile.
PS. You can download the equilibrium state of the Planetary Greenhouse with
M
= 0.05 and
Q
= 0.001 K in
PGH_M005_Q001
.