We downloaded lower-troposphere temperature measurements provided by UAH from
NSST
. The graph below shows the global anomaly from the start of their satellite data-taking in 1978 to the present day. You will find a similar graph for mid-troposphere
here
. The graph shows the trailing ten-year temperature trend in °C/yr, starting in 1988.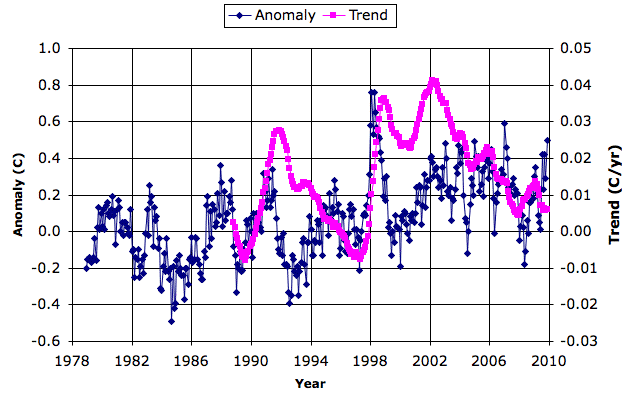 The ten-year warming trend has dropped from a 0.04°C/yr in 2002 to 0.006°C/yr in 2009. Meanwhile, in the mid-troposphere, warming has stopped. So far as we recall, IPCC predictions around the year 2000 said that warming would continue unabated. Perhaps it will start again in a few years, and get going so fast that it catches up with the predictions. Or perhaps not. The anomalies look like random
red-noise
to me. Good luck to anyone betting their reputation on what the anomalies are going to do next.
UPDATE: Australian farmers
don't believe
in global warming.
UPDATE: Switching to Google Account comments in hope that this will solve some technical problems.
UPDATE: That crazy temperature trend fools us
over and over again
.